National 2018
10th Labrador Retriever National
12th & 13th May 2018
The 10th Labrador Retriever National Championship Show will be hosted by The Labrador
Retriever Club of NSW Inc. This will be the third National held in Sydney and we hope to
deliver a fantastic weekend full of great sportsmanship, showcasing the wonderful Labrador
Retrievers we have in Australia.
Click on the link below to download version 3 of the 2018 National Information Booklet.
This information booklet will assist exhibitors with their planning to attend this event. It will
be updated periodically as we get closer to the National in 2018, please regularly check for
updates.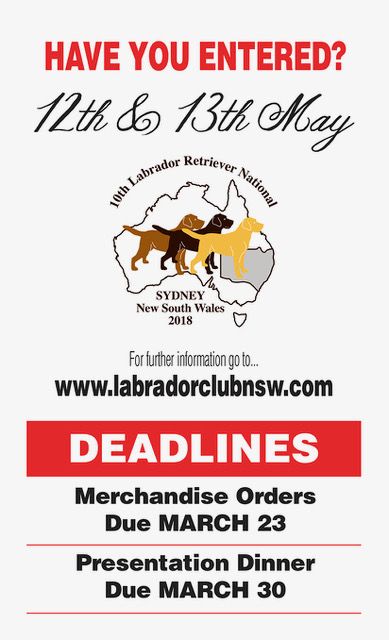 Contact Details
Sarajane Scott - Club Secretary
Sydney, NSW, Australia
Phone : 0409 229 188
Email :
[email protected]